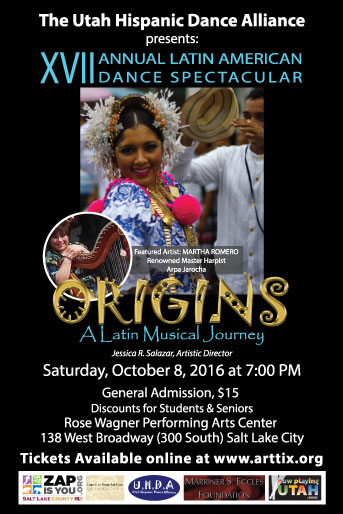 Full Group Performance Programs
From 18 to 20 performers will delight you as they showcase the living traditions of Latin America. Vibrant colorful costumes combine with authentic traditional music to transport the audience from the pueblos of Mexico to the mountains of Bolivia and beyond. Our repertoire includes the regional and national dances of most Latin American countries and many of our dancers are natives of the countries they represent, which serves to further add to the authenticity of the experience. As participants in the Utah Arts Council's Performing Arts Tour, the cost of a full group performance may be subsidized, Call The State's community partnership office at 801- 236-7555 or visit their website at www.arts.utah.gov/csp. Recorded Music is used in our typical performance, however, a live mariachi ensemble, classical harpist, or Andean musicians may be available for an additional fee.  Call for details.
Smaller Ensemble
The UHDA can custom design a performance to meet any occasion.  Our smaller ensemble performances can include from 6 to 12 beautifully costumed performers who will delight your audience. These smaller groups are particularly well suited for festivals, special events, corporate functions, and other smaller venue events. This performance can run from 20 minutes to 1 hour. The cost  is dependent on the number of dancers needed.
Educational Residencies
"UHDA instructors instilled a sense of confidence and pride in our at-risk youth, by celebrating the customs, history, and traditions of the diverse cultures of Latin America" 
–Magdalena Lowe, Centro de la Familia
The UHDA is an invaluable educational resource, our K-12 age- appropriate programs balance performance, education and instruction.
     Hispanic Dance &Students develop skills, interest, and appreciation for Hispanic culture by Culture Residency learning folk dances and customs from a combination of Latin American countries. Our Artistic Director, Jessica Salazar, was a Former Artist In Residence for the Minneapolis Public School District and can incorporate content with graduation standards.
Community Outreach
     An entertaining demonstration by 6-8 beautifully costumed dancers designed to foster an understanding and appreciation for Hispanic culture. Appropriate for senior centers, hospitals, schools, and other non-theatrical community venues.
Master classes and Workshops
Since the UHDA is made up of dancers and master teachers from throughout all of Latin America, A workshop curriculum designedAuthentic Instruction for beginning through intermediate dancers interested in the Regional or & Workshops National dances of Latin America, like the Cueca from Chile, or the Jarabe from Mexico, is available for your group.  The workshop includes informative handouts for the students to keep as well as certificates of completion for each participant.  Experienced instructors are also available for master classes.